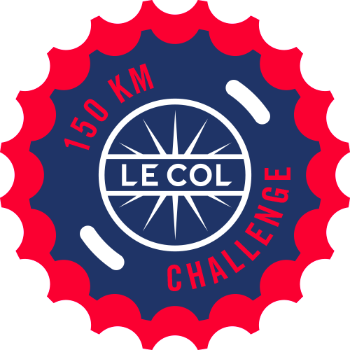 THE LE COL 150KM STRAVA CHALLENGE
_
 
Go the distance - Get a £50 reward.
Do it in one and be in with the chance to win £2,000 worth of kit.

"Whether you've finished entering races and events for the year or have a late season target, now is the perfect time to enjoy getting on your bike with a full season's worth of cycling miles in your legs. If you're like me and you need something to aim for, go for the top ten on your favourite Strava Segments and push for that KOM/QOM."
 
Yanto Barker 
Ex Team GB Cyclist and Le Col Founder
_
DAILY KIT PRIZES WITH #LECOL150KM
_
It doesn't stop there though - we want to join you out on the roads and share the sights that make Autumn riding truly special. Take a photo of your ride and upload it to Instagram using the #LeCol150KM and #BackYourself tags, you'll be in with a chance of winning some free kit for each day of the competition.

From arm warmers to top of the line jerseys, there's a whole host of kit that we'll be giving out, so don't miss out.

To keep in the mix for daily prizes, follow our Instagram page and get tagging!
_
COUNTDOWN TO CHALLENGE START
To find out more about the 150km Challenge, read the Terms and Conditions by clicking here.
_

In July, over 150,000 cyclists entered the Le Col By Wiggins 100 mile challenges, covering an astronomical total of 25 million miles - how astronomical you ask? That's enough to cycle to Venus. Not just rewarding those who completed with Strava Vouchers, we also gave away kit to participants posting about their rides on Instagram and Twitter. One lucky winner got to take home £2,000 worth of Le Col by Wiggins kit.
_
---