PRO AIR SS20
LOOKBOOK
Take a look at the Pro Air Collection in action by browsing the SS20 lookbook. Learn more about this super lightweight layer and how it can develop your riding in high summer conditions.
SEE IT IN ACTION
BREATHABILITY MEETS SUSTAINABILITY
We're committed to reducing our footprint. The Pro Air Recycled Jersey is made from repurposed ocean plastics and performs identically to the rest of our Pro Air Collection to ensure you of quality thermal regulation on your ride.
SHOP THE JERSEY
SHOP THE BIB SHORTS
RIDING DOWN UNDER
Our photographer Russ Ellis, profiles riding in the heat of Australia, his hacks for beating the conditions and profiles the new Pro Air Collection in the toughest climate.
READ THE STORY
JOIN THE FASTER FURTHER 400 STRAVA CHALLENGE
Dig deep and strive to be faster and fitter than ever before. Push for personal bests and record over 400 minutes of activity for your chance to win a Merida Reacto 5000 Team Bahrain McLaren Edition Bike.
JOIN THE CHALLENGE
RIDING SA CALOBRA
One of cycling's most famed roads, Sa Calobra is 9.5 kilometres of jaw dropping beauty. Read our feature for the inside line on what it's like to ride.
READ THE STORY
TRAIN LIKE A PRO
We asked Fred Wright of Team Bahrain McLaren to share his 5 day training plan for Sprinting with us. Read our guide and ride alongside the pros.
READ THE GUIDE
REWARDS FOR RIDING
GOT YOUR MATES BACK?
Refer a friend who goes on to make their first purchase and you'll both receive a 20% off coupon code
SIGN UP NOW
JOIN THE CLUB
For years, we've partnered with Strava to encourage people to get out and go ride. Now, we're taking things further. Join the Le Col Strava Club today and ride for your chance to win daily prizes.
FIND OUT MORE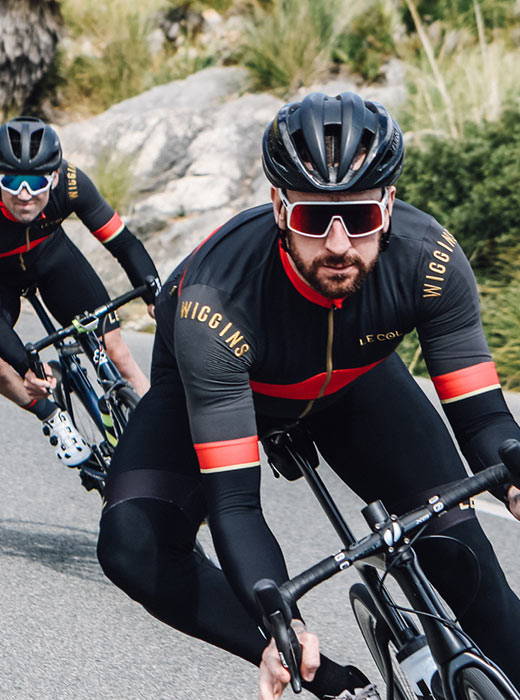 "Le Col is the best performance cycling kit
on the market"
Le Col Vuelta Strava Challenge
The Le Col Vuelta Strava Challenge is underway. If you record 120km of rides between the 24th of August and the 15th of September, you'll earn a reward for use at lecol.cc.
JOIN TODAY