SEASON STARTER
CHALLENGE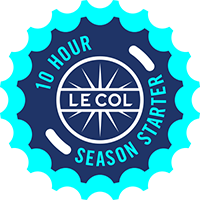 RIDE & REWARD
_
Ride for 10 hours between 1st - 14th of February and you'll earn a £50 Reward.
"February's one of the hardest months to train, but later on in the season, it can be the difference between hitting peak form when you need it, or four weeks too late. You've got to make every mile count and a quality two week block will stand you in good stead as early Spring gets closer. I'd recommend trying to get a couple of long rides in when you can over the two week period, building in a few short hard efforts in to each ride to build strength while maintaining endurance fitness."
Yanto Barker
Ex Team GB Cyclist and Le Col Founder
_
DAILY KIT PRIZES WITH #LECOLSEASONSTARTER
_
Winter miles can be some of the most rewarding all year and we want to see your rides, so share with us your best pictures, stories and experiences using #LeColSeasonStarter and #BackYourself and you'll enter a daily competition to win Le Col kit.
We'll be giving away everything from our flagship HC Jacket, right through to Arm and Leg Warmers, and on certain days your favourite cycling magazines will be hosting the competitions.
Keep up to date with the daily prizes and follow our Instagram page.
_
COUNTDOWN UNTIL CHALLENGE ENDS
To find out more about the Season Starter Challenge, read the Terms and Conditions by clicking here.
LE COL STRAVA CHALLENGE
_
In October 2017, Le Col challenged cyclists across the world to ride 5 hours, whether in one day or spread across two weeks. Over 80,000 people signed up. Every day we gave away kit to people that shared their ride with us, just like the Season Starter Challenge. We saw rides and adventures from every corner of the globe, on and off road, and this time we want to see how you're starting off the 2018 season.
Below is a little bit of inspiration from our fans as well as a video from British National CX Trophy Winner Beth Crumpton, a sponsored team athlete of Storey Racing, preparing for her morning's ride.
_
---